Built for dance instructors
All the tools you need to be successful
No coding or plugins required
The Benefits of Using OfferingTree
How to Grow with Offering Tree
Create Your Website
Build Your Content
Promote Your Site
Engage Your Clients
CREATE A WEBSITE
Website design can be complicated and time consuming. With OfferingTree you can create an attractive, mobile-ready, professional website in 10 minutes (that's not a typo). Your site will showcase what you teach and when so your clients and students can find you, follow you and register for your events. Simple and effective.  See a sample site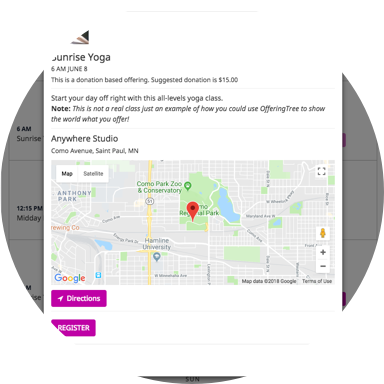 MANAGE YOUR SCHEDULE
If your schedule is hard to find, your clients will give up and move on. With our easy-to-use scheduling tool, you can keep your clients up-to-date and make it easy for them to register for your offerings. The OfferingTree calendar allows your students and clients to reserve a spot in upcoming classes or book a private session with total ease. Watch a short demo
ACCEPT PAYMENTS ONLINE
We support that you're trying to help people, and we understand you need to make a living in order to help others.  Being able to accept secure online payments and donations makes it easy for you and your clients. Our low transaction fee payment processing (that can be passed onto the purchaser if you wish) will keep you and your clients happy. Watch a short demo
TRACK YOUR CLIENTS
Staying engaged with your students is the key to client retention. Our client database stores all of your client information in one easily-accessible location and lets you monitor which of your students are attending classes. With this information, you can follow-up, offer deals and keep your students coming back for more.
BLOG
Share your knowledge with your students by blogging. We make it easy for you to publish your own blog on your website. This helps potential students find you because search engines prefer sites with original content. Get noticed and grow your practice. Watch a short demo
DIGITAL DASHBOARD
Our  easy-to-use dashboard contains all the information you need to manage your business. From site visits to class popularity, you can see what people like so you can provide these key teachings to your community.
Free Plan
Start your online presence
Website

Hosting

Mobile responsive

Contact form

Social media linking

Scheduling

Registration

Payment processing

Donations support

Blog

Client contact managment

Newsletter

Custom pages
Newsletter
Send email to all your clients
Everything in the free plan

Send unlimited newsletters to your clients to keep them in the loop

Analytics that let you know who opened your newsletter and which ones were never received
Pages and Content
Personalize your site
Everything in the free plan

Add unlimited custom pages to your site

Embed videos, audio files and more to your pages, offering descriptions and blogs
As health and wellness professionals, coaches, teachers and trainers, we care about the people we work with. We take our practice to this level because at the core of what we do, we want to help others. So then, it's only natural when you want to offer your practice...
Keep Learning
We are constantly curating and creating content to help you become a better wellness instructor. Have this content delivered to your inbox